Poole Harbour
14 Stories
0 Events
27 Resources
LiCCO Study Site
In Dorset the Living with a Changing Coast (LiCCo) project spans Poole Harbour and the open coast to the south of the harbour mouth at Studland and Swanage. The project will work with communities where coastal change is likely to have the most significant impact to explore how those communities think change will impact on them, empower…
Read more
Your 14 stories about Poole Harbour
3 Jun
A fabulous light-hearted, python-esque animated film (6 mins) about how our beautiful coastline has changed through out the ages and how it could change in the future. The film has been produced for the Living with a Changing Coast project by Tim Britton from the wonderful Forkbeard Fantasy multi-media arts company www.forkbeardfantasy.co.uk. We hope you…
9 May
With 60% of the vote – the modern take on the traditional beach hut shape was the clear winner. It may look similar similar to the iconic shape, but this design has been developed to better withstand storms, high winds, heavy rainfall and if worst comes to worst it can be easily moved out of…
18 Apr
Imaging how visits to the coast used to look is easier now at Studland with the new addition of a old fashioned bathing machine at Knoll beach. Watch this video to see it being constructed http://youtu.be/1EHZfAfKtFo and come and choose your favourite beach hut design for the future.
20 Aug
A Living with a Changing Coast video produced by students at Yeovil College to highlight the challenges that the residents of Swanage are facing relating to coastal change and sea level rise. Contact the Swanage Coastal Change Forum for more information on how Swanage is being affected and how you can get involved.
17 Dec
This image was taken during the flooding in July 2012.
17 Dec
These images show an example of the damage done to the dune system and the slipway on Friday as a result of the high tide and the change in wind direction. The coastal monitoring team had to wait a long time after the high tide until they could get onto the beach to monitor the…
17 Dec
December 14th 2012, high water at 9am caused a metre extra on the high tide. The expected 2 metre tide ended up just short of 3 metres causing waves to break over the quay area and down into the Lower High Street.
7 Dec
Flood defences in action in early November. The scheme holds water coming off the hills around Swanage back in holding areas releasing water slower thus protecting the town centre.
6 Dec
There was a storm surge on the 16/17th October. The winds were South/South West with a tidal reach of 2.5 metres. The storm surge caused damage to the foot of the cliffs on South beach and swept away a National Trust dog flag. At Middle beach sand and sediment lost below the ramp, the bottom…
1 Nov
This video outlines the work carried to remove failing sea defences on the south shore of Brownsea Island.
30 Oct
This video was taken on the beach at Swanage in March 2008.
30 Oct
This image was taken on shore road in Swanage in October 2004. The waves were splashing up onto the road.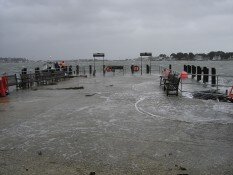 30 Oct
This picture was taken from the quay at Brownsea Island during a storm in 2005.
Your 27 resources about Poole Harbour